We've been thinking for months what Mini Doc Handsome's first birthday party theme should be. He was born in the fall, October 19th to be exact. Although there's a ton of cute commercial ideas like Toy Story and that sort, we wanted something sort of different. I guess timeless in a way so when he looked back as a teenager or adult, he wouldn't be weirded out by the embarrassing theme we chose. We thought about "apple of my eye" with red, oranges, and yellows including activities like pumpkin painting and bobbing for apples.
Eventually we decided on "still FALLing in love with you..." Emphasis on the fall part. Colors are still all the same warm earthy fall colors and although I haven't quite figured out all the party details quite yet, but I did have to get the invitations out. You see, a huge chunk of our family and friends live up in northern California, and a huge chunk of our other friends live down here in southern California where we live. Sooooo, to keep it simple Mini Dh is having a NorCal party and a SoCal party. This decision also came together in large part due to the fact that my sister in law (Doc Handsome's sister) is expecting their baby girl on Mini Dh's birthday. So she can't exactly travel across the state being due anytime.
Anyways, on to the main point of this post. I had decided I was going to make the party invitations because one, we're on a budget and two, I'm pretty set on doing this party by hand. Freak you say?! I think so too. Before I dive in, these are amateur invites but I definitely put a lot of effort and love into them. I've only finished three since they're so time consuming but I thought for anyone else on a budget, here's a starting point. And maybe one day I'll look back and laugh at myself when we have a house full of children and I don't have time to make invites anymore.
First thing first, the supplies. I went to Michael's and bought this pack that included card stock and envelopes. It's a shimmery goldish brown. Very earthy. There's ten to a pack and they were five bucks. Not bad.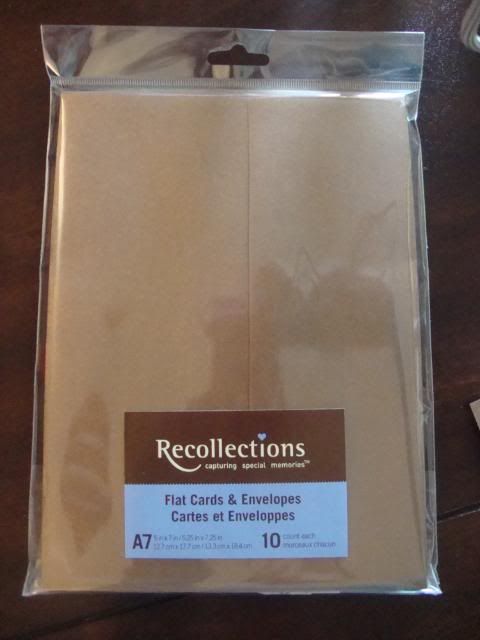 I found red, orange, and yellow ribbon for fifty cents so I bought about six spools. Along with puffy paint which were a couple dollars a piece. If you're crafty, you may have some of this stuff at home already.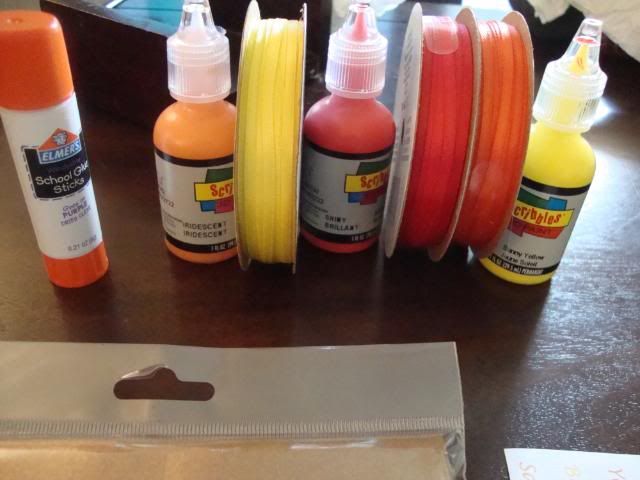 Then I printed out this simple little poem Doc Handsome and I wrote. It looks like it's missing a word, but just care with me a moment. The text are in fall colors and it reads,
"We're still ing in love with you
Yet it's hard to believe it's so true
We ready to party, sing, giggle, and have fun
Say it with us now, Mini Dh is turning one!"



So the back of the invitation turned out like this. I glued on the poem and covered the whole surrounding area with puffy paint confetti spots. I also wrote in the word "FALL" to put emphasis on the theme and make it stand out.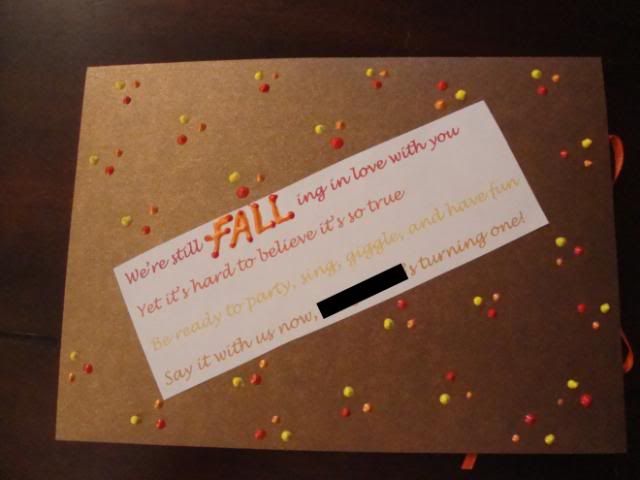 Then for the front of the invite, I had this grand idea to paste a photo of Mini Dh. I wanted the picture to be fall themed to match the party so I bought this seasonal backet that says "autumn" on it in a earthy green tone. This was the most expensive part, as the basket was fourteen dollars. I also bought a ton of these huge fake fall leaves. They were the cheapest part, only being one dollar a bag.


We placed Mini Dh below a tree and spread out all the leaves along with some deep red apples. Then we placed Mini Dh in the basket with an apple. We knew he'd love this and it kept him entertained the whole time. I then had bought a white foam board (three dollars) and tied orange ribbon on it to hang in the tree right above Mini Dh. We took almost forty pictures but finally decided on one.

I uploaded the picture to one of my favorite photo editing websites, picnik.com, and on the white board, I added the details of the party in text. You can use almost any photo editing website including photobucket.com. I think it turned out really cute. I had the photos printed up, pasted them on the front of the card stock, and then puffy glued a ribbon bow. I am still debating whether to add the puffy paint confetti on the front like I did on the back.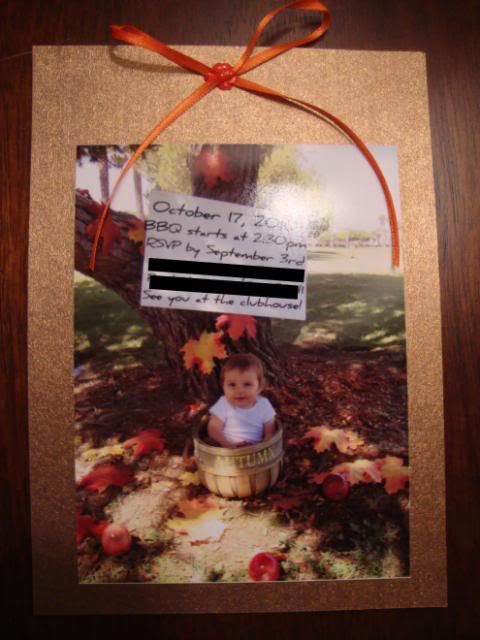 Here's a close up of the picture that is on the invite. The blurred out area has the address. The poor little guy has a battle wound on his nose from smacking himself with a CD case. And there's apple all over his chin!




And just a few candid photos from the rest of the pictures we took today.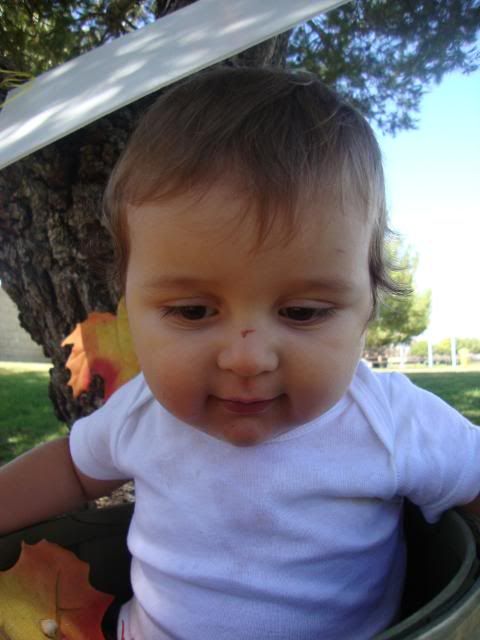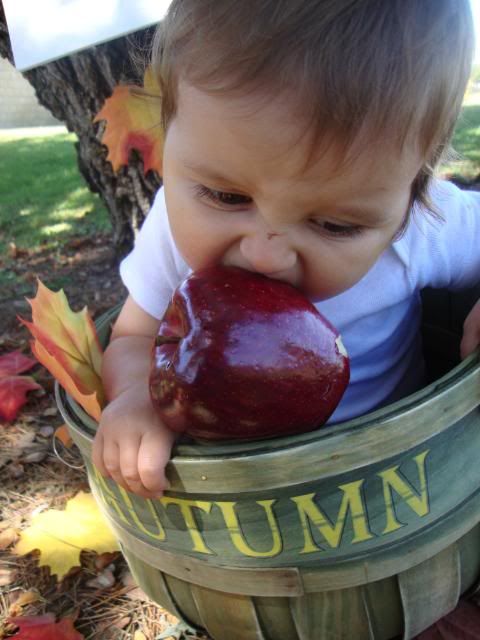 "Don't you dare think about taking my apple"




He was thoroughly enjoying the apple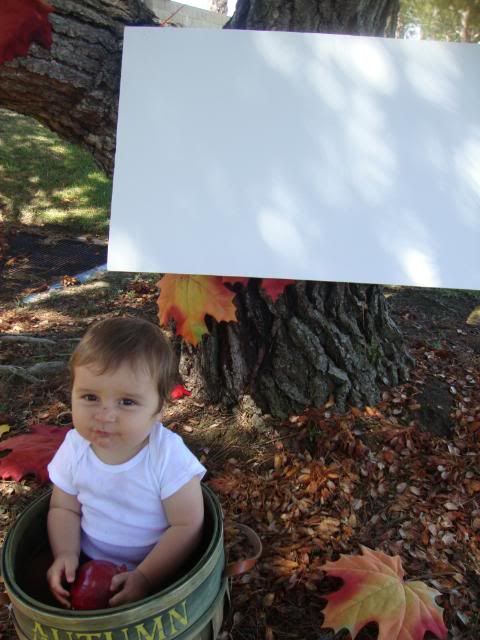 Doc Handsome is out of town on a mountain biking trip with his dude friends till Sunday, but I can't wait to show him how they turned out.