Mini DH got his first taste of Easter this afternoon. His great grandparents, Nana and Papa (Doc Handsome's grandparents) sent an easter box in the mail and it was delivered today. He played with the duck and soccer ball and even got his first Nana and Papa personalized Easter card that they are famous for giving!
He loved his first Easter basket. Thanks Nana and Papa!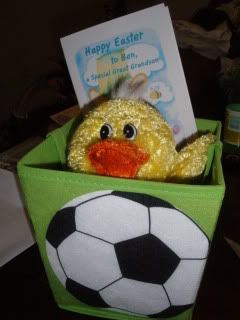 "Oh hey mom."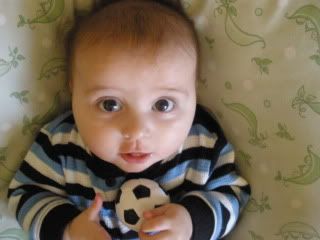 "Ok, forget the ball. These feet are much more fun!"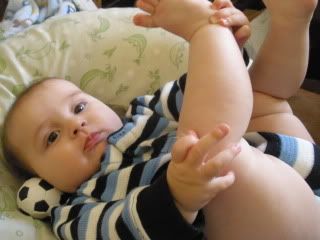 Tonight we are headed to Holy Thursday mass at the mission where I went to school and then again for Easter Vigil mass on Saturday night. Tomorrow for the Good Friday mass we're going to he chapel here on base. Doc Handsome is so considerate about joining me to mass. For someone who considers himself atheist/agnostic, he is so understanding that this is my personal belief and going to mass espcially on these days are important to me. I hope the baby cooperates at mass too tonight!
I've got to get myself motivated to go buy Mini DH his Easter stuff at the store. I know he's only 5 1/2 months but one day he will look back on the baby book and albums. It will be nice for him to know his first holidays were celebrated. So with that mentality, we're taking him to see the Easter Bunny here on base at the NEX saturday morning.
Can anyone believe it's already April 1st? Where has the first four months of this year disappeared to? Man oh man....