It's been a couple days since I've last updated so I thought I better do so. We had a great weekend. Saturday we headed out of town to see some friends and watch the UFC fights with a bunch of them. We had an awesome time. The weather here has been gorgeous, around 74-80 degrees lately. Yesterday we went to a friend's surprise Welcome Home Party. He is int he Army and just got back from Iraq for his two week R&R. He goes back for 5 more months next week. The rest of the day was spent at the beach and enjoying the sun with my best friend.
Here are some pictures of the things that have been going on in our house.
I got this awesome recipe from Allrecipes.com. It's called Anniversary Chicken and I was so impressed. Doc Handsome was in love with it. It has teriyaki, ranch dressing, bacon, green onions, and other spices that I thought it needed. And it only takes about 45 minutes to cook. To top it off I served with sticky rice and garlic cheese bread. I will admit, I was quite proud of myself. To think just months ago, I was SO INCREDIBLY cooking challenged. Now, I can cook to a certain degree!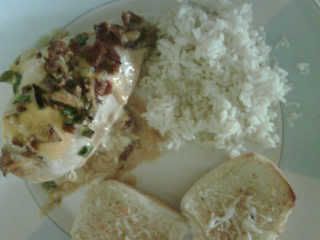 At our friend's welcome home party yesterday, his 8 month old son was there which was really exciting because none of my friend's have babies yet. So it was nice to be around other parents to talk about the lifestyle. Their son LOVES the swing, will cry when you take him away. Turns out, Mini DH is also a fan.


Mini DH's absolutely favorite new toy. He lept trying to grab it from the bathroom counter and after multiple times of Doc Handsome saying "no," he thought why not? So it has in turn become a favorite. I think it helps soothe his gums in some way.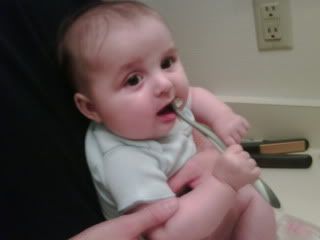 Working out with Dad. Gotta build those muscles!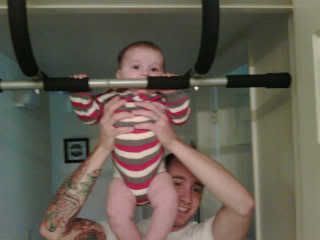 I picked him up out of his carseat to go lay down in his crib and he was so exhausted he just curled right up in my arms. It was heaven.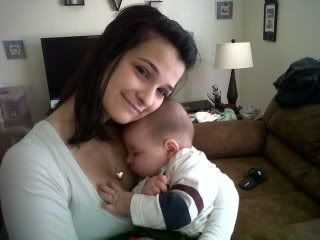 Hanging down at the beach. We found out Mini DH HATES the wind.

That's all I have for now.
Love. Peace. And Laugh. =]