So last Friday night we left to head out of town and go north to see our families. Doc Handsome's entire family live up north and my dad as well as two younger sisters also. (Trying to leave out the city if you can tell...) We've tried to make it up there every four weeks or so for Mini Doc Handsome's sake at least. It's so hard having him away from our families. From the people that love him most in this world besides his parents. As a parent, you want those people around your child, to surround him with love and adoration. I am easily jealous of our nephew (my sister in law's son) and my own sister's baby on the way. The both of them will live close to family and I just wish so could Mini DH sometimes. That is what my heart tells me anyways. Then my mind kicks in, and reminds me why that isn't possible. I'm reminded that this military lifestyle is one we chose and are honored to do. Sigh....
So while we were gone we went to a baseball game. Our team, the A's, were playing the Cleveland Indians. My dad and sisters joined us along with some close friends of ours who have an adorable 16 month (I hope that's right) baby boy. Doc Handsome went to high school with her and she's become an awesome inspiration as well as confidante as a mother who's been through it before.

After the game. Part of my lovely family. Absolutely a wonderful day!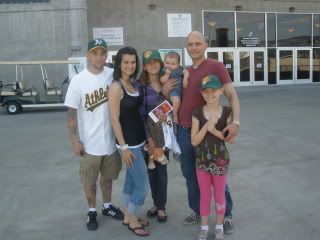 We had the opportunity to go to my dad's work one day to meet him for lunch. He works at the Veteran's Hospital which is extremely beautiful. He fed Mini Doc Handsome while we ate and needless to say, later told me he went back to work with squash all over his suit! Still a precious moment I though....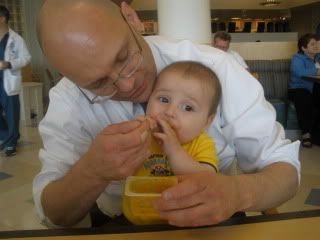 "Youngpa" and Mini Doc Handsome

On one of the nights we were there, we went to a friend's house to watch the Sharks' hockey game. Doc Handsome grew up with these guys and has known them for years. I've always admired the kind of friendships they share. And not to mention, I absolutely LOVE every single one of these guys. (And some of their amazing ladies I bonded with too). When I was living up there during pregnancy and life as a new mamma while Doc Handsome was deployed, they all visited me numerous times. I became close with some and I knew I could always count on them. From visiting me in the hospital the night of having Mini Doc Handsome to helping me move, they were there.
He's known J, the one of the left since he was 6 and S, the one on the right, since he was 10. They were Best Man and Groomsman in our wedding.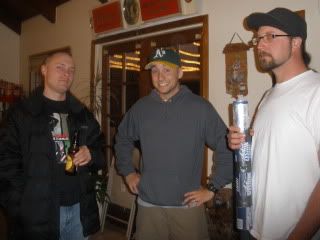 More of the guys playing their drinking game called, "Beer Staff." They are a crack up. It's kind of ironic since Doc Handsome doesn't drink at all. I love that about them though. Despite differences, they're all still close.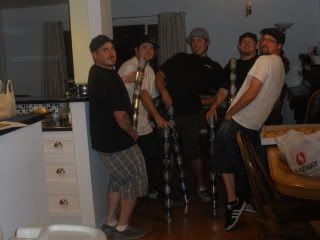 On another night we had the chance to go on a double date with a wonderfully fun couple. My mother in law was gracious enough to babysit Mini Doc Handsome for the couple hours we were out to dinner. That small gesture made my night. It made me see that she wanted to spend time with her grandson even if she was nervous about him crying from seperation anxiety. And ya'll know me, I'm all about family! After dinner the baby was sleeping so she said to go out for a bit. We had coffee with friends and a little bit of grown up talk for once. You'll never hear me complain about being with Mini Doc Handsome all the time, but as most parents would agree I think, grown up time is much needed here and there!
We went by my mother in law's work too the day we were leaving so she could show off her grandson. It's always nice to hear your baby is cute because let's face it, as his parents, we are a bit partial to his adorableness. And everyone loves a baby. I can't count the number of times I've shrieked in "aww" from seeing a baby at the NEX.
Doc Handsome's grandparents let us stay with them and took amazing care of us. We thoroughly enjoyed spending time with them and I know they were happy to see Mini Doc Handsome so much.
We headed home Tuesday night and didn't get back till 4am. It was a miserable drive since we were exhausted but I can thank the husband for picking up my slack of not being able to drive my entire portion. Don't judge me too harshly though...I drove two hours! HeeHee.
It was a great trip and one that will have to hold us over for another four weeks or so....