I have some new information in just about every subject to update ya'll with. (Why do I say ya'll when I'm not from the south)?
Work
Starting Monday, I am no longer working only two hours two days a week. My boss is my best friend's mom and I've been close with her since the bestie and I lived together. We've figured out a schedule that works for us both. I am now working 8am to 2pm Monday through Friday. Doc Handsome's work schedule is usually odd graveyard shifts so he is able to stay with Mini Doc Handsome while I work in the day. And since his work is always so wishy washy with availablity (it's an on call type of thing...) we figured the more chance to work the better. I wouldn't take the oppurtunity if my boss wasn't gracious enough to work with my family schedule. And of course, if going back to work meant having to put the baby in daycare, that would be out of the question. Doc Handsome and I are in complete agreement that unless in DIRE need, daycare is not in our future.
For the record, I work for Farmers Insurance and love it. After working for three agents, of course this one is my favorite. I enjoy what I do so if you have any questions, please feel free to ask!
Active Duty
Doc Handsome has turned in all paperwork needed for his MEPS package. The recruiter sent it all in and now we are waiting for them to call and say he can go down for his medical portion. This first trip to MEPS will be the deciding factor for active duty. They will call a few weeks after and tell him either A.) He is approved because there are spots open for his MOS and rank or B.) He is denied because there aren't spots for his MOS and rank.
First Family Trip
I just booked our first family trip plane tickets. On May 14th, we are leaving to Washington State for a week to see my grandparents. Then from there we head to Alaska to see my mom, sister, other grandparents, and lots of other family. I posted about this vacation in detail here.
Mini Doc Handsome's Achievements
So far into the solid jounrey, Mini DH has eaten squash, green beans, and peas. I bought all these to make at home since discovering how accomplish I feel after doing so not to mention how much money it saves!!! I am most excited to make the squash. I also bought avocado to make for him also.
He moved up into size 3 diapers today and Doc Handsome believes he'll be crawling or close to it within the next month or so. I know the first time I will cry because I am such a sap.
His new thing is repeating "Ba Ba" over and over again. This is the first words he's put together other than just babbling and screaming. We've also been working on his sign language. At this point we're sticking with four signs to get him going. Mama, Dada, eat, and sleep. We're hoping knowing how to communicate in some way can help with the frustration I'm sure babies have of not being able to tell their parent what they want.
I think those are the major updates going on at this point. I'll leave you with some pictures of the kiddo.
Squash all over his face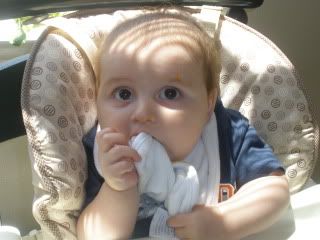 Peas all over his face...do you see the reoccuring theme?